LifeLine Plan
LifeLine Call Manager
One-Time Link Up Activation Fee

$17.50
$20.74/ mo

Call 1-800-818-5462

SouthernLINC Wireless Acceptable Use Policy

Push To Talk Minutes

Unlimited*

Anytime Cellular Minutes

300

Regional Long Distance

Included

Additional Features

Directory Assistance
Caller ID
Call Forwarding
Call Waiting
Call Hold
3-Way Calling
---
Back to LifeLine Plan Overview
Coverage Map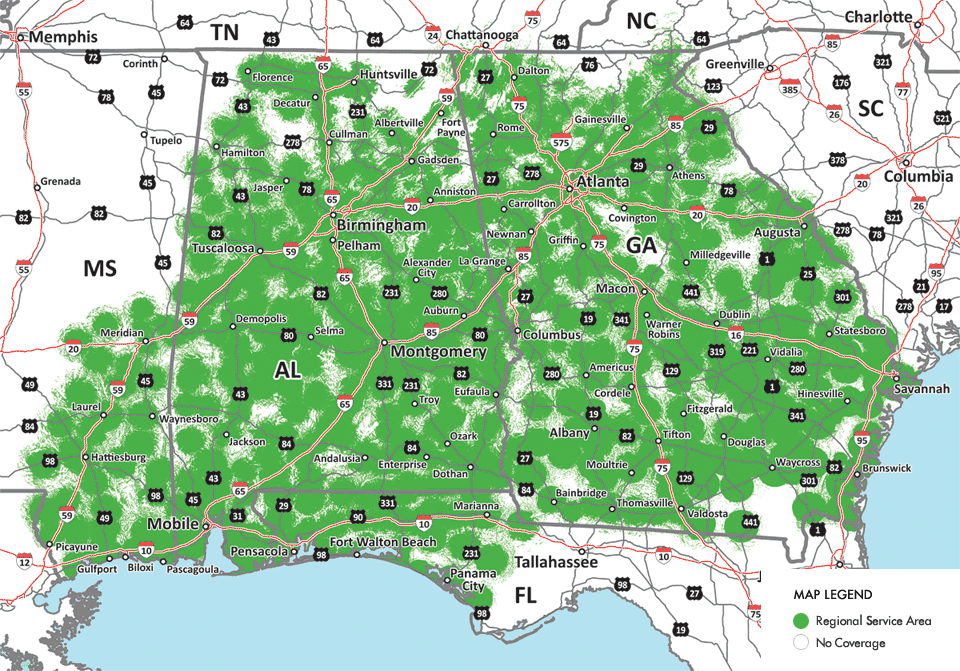 Regional Service Area
* Subject to permissible usage allowances, see southernlinc.com/promodetails.
Roaming outside the Southern Linc Regional Service Area, voice mail, data plans, access to downloads and other features and services are not available with this plan. Taxes and surcharges are additional.
Qualifying subscribers must (1) meet the eligibility criteria for participation in the Lifeline program, (2) have only one LifeLine Call Manager service plan per address, (3) discontinue Lifeline with any other provider, and (4) immediately notify Southern Linc if they cease to meet the eligibility criteria.
Lifeline service is subject to the following eligibility determination and certification: A P.O. Box cannot be used as an address to establish Lifeline service. A subscriber must be a resident of the state in which the subscriber is applying for the Lifeline service. Only one LifeLine Call Manager service plan is available per household. The Lifeline program defines a household as any individual or group of individuals who live together at the same address and share income and expenses. A household is not permitted to receive Lifeline benefits from multiple providers. Violation of the one-per-household limitation constitutes a violation of the Federal Communications Commission's rules and will result in the subscriber's de-enrollment from the program. Lifeline is a federal benefit and willfully making false statements to obtain the benefit can result in fines, imprisonment, de-enrollment or being barred from the program. Subscriber's name, address, phone number, date of birth, and the last four digits of their Social Security number will be provided to the National Lifeline Accountability Database. Each year, the subscriber will be required to recertify eligibility to receive Lifeline benefits, and that failure to recertify will result in termination of the Lifeline benefit. Lifeline is a non-transferable benefit, and the subscriber may not transfer his or her benefit to any other person.