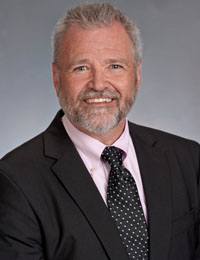 Responsible for creating, developing, managing and maintaining all marketing and sales-related operations, Rodney Johnson holds the position of vice president of marketing, sales and distribution for Southern Linc, a Southern Company.
Early in the company's history, Johnson was the driving force behind the development of two successful distribution channels – a direct sales organization and an extensive dealer network. Over time, the sales organization added other segments, including a public sector (government) team, an online store and several company-owned sales and service locations.
Currently, Johnson oversees all business and government sales representatives, who comprise the direct channel, as well as all indirect sales personnel, who retain and grow relationships with the carrier's authorized dealers.
Johnson has been with Southern Company for more than 35 years. Prior to joining Southern Linc as the company's first salesperson in 1994, he gained valuable experience with Southern Electric International. Following graduation from Birmingham-Southern College with a Bachelor of Arts, Johnson began his career in Birmingham, Ala., as a technical aide in the engineering services organization of Southern Company Services.
In November 2013 Johnson became responsible for both Sales and Marketing at SouthernLINC. In addition to the leadership he brings to Southern Linc, Johnson has a history of service with the International iDEN Operators Forum (IiOF), a global membership of iDEN carriers. He was appointed chairman of the industry organization from July 2006 to Oct. 2007, became the vice chairman in Oct. 2008 and, then, returned to the chairman's position from July 2009 until June 2010. His most recent role is Treasurer since 2013. The IiOF collectively represents millions of wireless subscribers worldwide.