Sonim XP5plus
and XP3plus
One part phone, One part
Push-to-Talk, All parts rugged.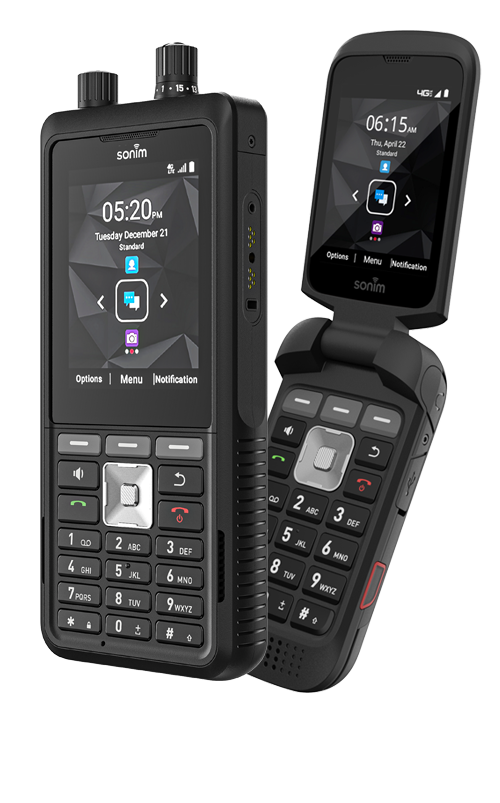 Rely on both cellular and push-to-talk communication in challenging environments? Sonim Technologies has developed the ultra-rugged XP3plus and XP5plus for you.
Sonim Technologies specializes in workforce-critical communication and connectivity tools for industrial enterprises and public sector agencies including end customers in construction, energy and utility, hospitality, logistics, manufacturing, public safety and transportation. Leading carriers throughout the world carry Sonim products as a rugged communications solution for their customers. When you check out the XP3plus and XP5Plus, you'll understand why.
The XP5plus - for both cellular and PTT capabilities, it's the best of both worlds.
For both cellular and radio-like capabilities, it's the best of both worlds designed to perform in the worst of conditions.
Ultra-rugged phone - drop proof; waterproof; industrial-grade accessories, connected by Sonim SecureAudio 3.5mm connector, allow you to do more in more places.
Large screen for easy viewing - Three dynamic buttons that change functions depending on the display
Radio-Like PTT Capabilities - top mount volume and channel select control knobs and top mount emergency button for no-look access "no-look" use for greater mission focus and safety.
GOODiX Echo and Noise Cancellation technology on microphone and dual front-facing loud speakers with 100dB+
Military Rated - MIL-STD-810H, Non-Incendive Class I, II, and III Div 2 rated for use in the world's most extreme environments.
Industry leading warranty - Sonim 3-year warranty, the most comprehensive in the business.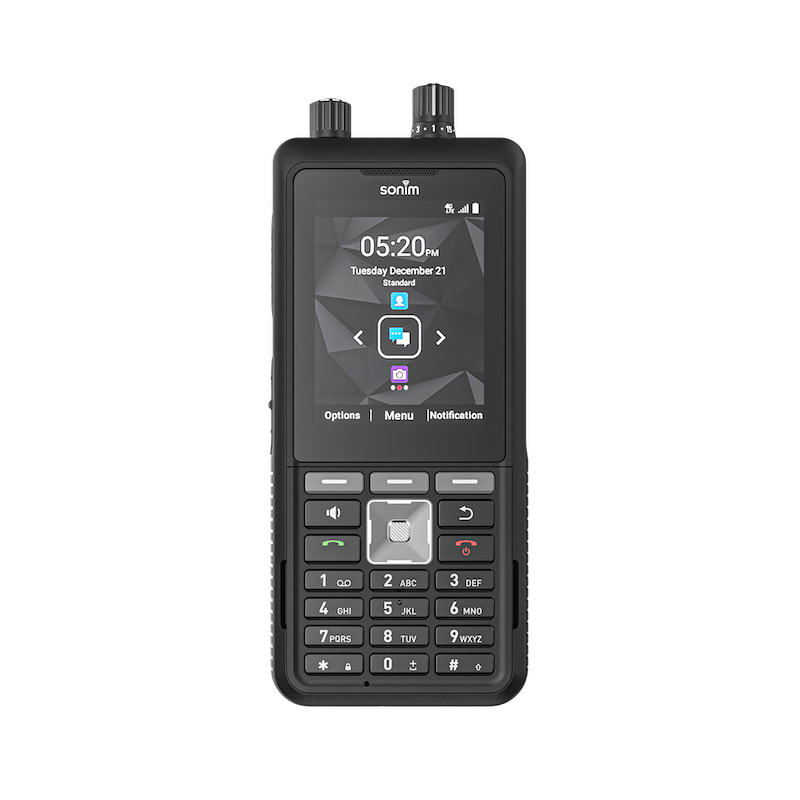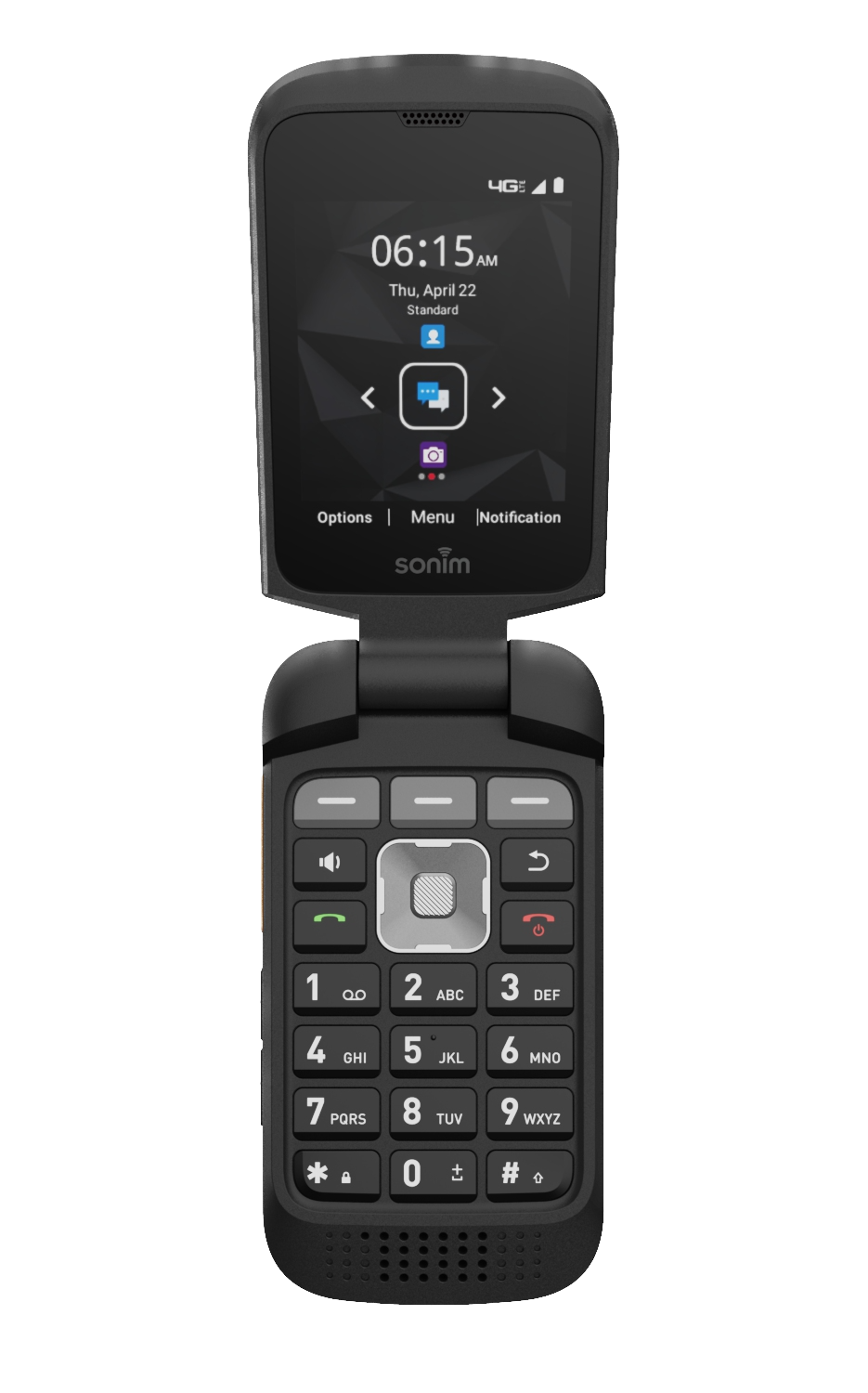 The XP3plus ultra-rugged flip phone provides glove-friendly Push-to-Talk and more.
Easy-to-use Push-to-Talk and large, tactile volume controls make it easy to communicate, even while wearing gloves.
Simple, intuitive user interface with three internal soft keys that change dynamically depending upon the display
Sonim SecureAudio 3.5mm connector enables use of ultra-rugged headsets and RSMs, vehicle kits, multi-bays and cases and other industrial-grade accessories.
Two customizable external buttons can be set to functions like answer, end or mute calls, or display a call log.
Long Battery Life provides 15 hours of talk time which enables working a full shift without recharging.
Military Rated - MIL-STD-810H, Non-incendive Div 2, Class I, II, and III rated for use in hazardous environments
Industry leading 3-year warranty can help you keep operating and replacement costs down
Install, manage and control your devices with SonimWare, Sonim's comprehensive set of software tools, applications and utilities.
Sonim Model Comparison
Specification

Sonim XP3plus (coming soon)

Sonim XP5plus

Size

116mm x 60mm x 28mm

With knobs: 163.7 x 65.9 x 21 mm

Display

1.3″ IPS External with 240×240 resolution

2.8″ TFT w/ 240×320 resolution

2.8″ TFT Gorilla® Glass 3 w/ 240×320 resolution

Ports

USB-C, SecureAudio 3.5mm Connector, Charging Pins

USB-C, SecureAudio™ 3.5mm Connector, Charging Pins

Camera

8MP Front Camera with Flash with multiple video formats

8MP Rear Camera with Flash

Video Capture/Playback up to 1080p

Audio

Dual mic solution with noise cancellation

Front-facing ultra-loudspeaker; output 100dB+

GOODiX Echo and Noise Cancellation technology

OS

Sonim Proprietary OS (based on AOSP Android 11)

Sonim Proprietary OS (based on AOSP Android 11)

Memory

2GB RAM/16GB ROM

10GB available user memory

Supports up to 256GB MicroSD external memory

2GB RAM/16GB ROM

10GB available user memory

Supports up to 512GB MicroSD external memory

Dedicated Keys

PTT Key, Volume Keys, Emergency Key, External Left Key,
External Right Key

PTT Key, Volume Keys, Emergency Key

Processor

Qualcomm SM6115 Quad cores 2.0GHz

Qualcomm SM6115 Octa-core 4x 2.0GHz, 4x 1.8GHz

Battery

2300mAh Li-Ion, Removable, provides 15 hours of talk time

3500mAh Li-Ion, Removable, provides 30 hours of talk time

Rugged Certifications

Class I, Div 2, Groups A, B, C, D;

Class II, Div 2, Groups F, G; Class III,

Div 2; MIL-STD-810H; IP-68

Class I, Div 2, Groups A, B, C, D;

Class II, Div 2, Groups F, G; Class III,

Div2; MIL-STD-810H; IP68, IPX9K

Warranty

3-year manufacturer's warranty

3-year manufacturer's warranty

Price w/service activation

$XXX

with 2-year agreement

$299

with 2-year agreement